2020 was nothing short of a breakout season for John Jodoin with success in GT Challenge while he secured the SM2 Championship.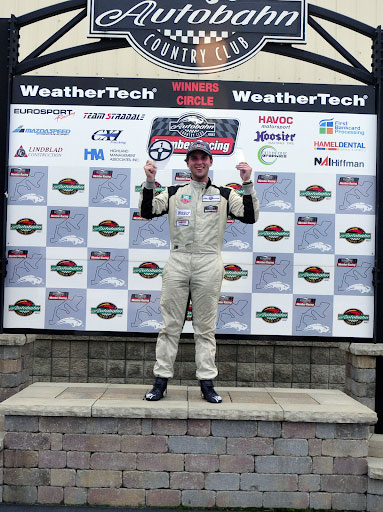 John has been a long time member of the Club together with his father Jean. Clearly sharing the same passion for motorsports as his father, John began racing at Autobahn in 2017. His first foray into Spec Miata was very limited with an increased number of races in 2018. While still eligible for rookie status that year John achieved his first podium finish in August earning a 3rd place.
2019 saw his schedule expand once again with more Miata racing while also adding some GT races into the mix, stepping onto the podium 5 times throughout the year.
When 2020 finally kicked off it was clear that John was going to take this year seriously. A contender immediately in SM2 he was involved in several of the closest races in Club history. In one of the early races we learned that John and Sean Varwig were going to be putting on a show all year as their finishing margin was .8 tenths of a second. This was nothing compared to what they did the rest of the season with a finishing margins in July of .041 and .008. The 2 of them capped off the season with another margin of .015. What a rivalry! 

The final 2 races of the season John moved up to the tougher top tier of Spec Miata and clearly he will be a contender there. John's success will not stop at Autobahn as he forays into other series and may have a pro career in his future. Congratulations John for an amazing year and we all look forward to following your career.