Member Driving Instruction
BIO
Ben discovered his passion for motorsports at a young age, after being introduced to go karts. Upon finding the Autobahn Country Club in 2005, he spent his early years honing his skills at the kart track. Ben then progressed to endurance racing in Spec Miata and GT cars, as well as Formula racing.
Ben's friendly and relaxed demeanor, combined with his expertise and passion for driving, is a tremendous benefit that our members should take advantage of both on and off track.
Ben Hasbrouck
Chief L
iaison

 for Member Driving  Instruction
Private Instruction
Guest Driver Orientation
New Member Orientation
Corporate Group Events & Defensive Driving Programs
Member Relations
Please contact Ben for additional information.
(815) 823-8588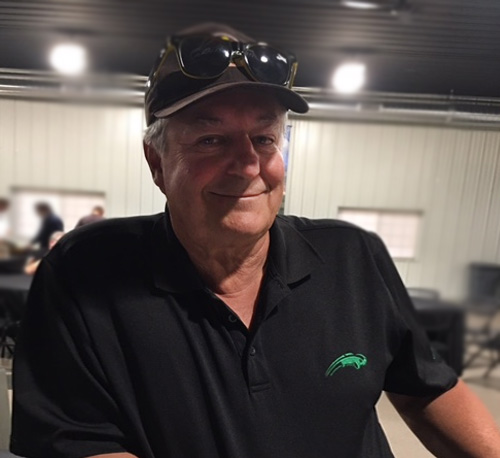 BIO
Brad has been a member of Autobahn for 17 years. He has been providing driver instruction from the beginning in a variety of roles, and in all of the Autobahn Driving programs. Brad has raced in the Autobahn Member Miata series as well as the SCCA Spec Miata series. His passion for motorsports and driving started as a teenager and drag racing his GTO.
He currently owns several 60's muscle cars and still loves to drive on track.
Brad Beall
Member Driving  Instruction
Guest Driver Orientation
New Member Orientation
Corporate Group Events & Defensive Driving Programs
Autobahn Driving Programs
Intro to Manual Shifting & Lapping
Total Time –  5 Hours
Program Overview
A program aimed at taking novice drivers or people learning manual for the first time and getting them comfortable and competent in their shifting before heading on to track at high speeds. Course is ideally broken down into multiple days as to take in what was learned. Ends with participant getting lead follow sessions on track.
Manual basics (2Hrs)
Start off on sim showing basic concepts

Smooth is key
Feeling the point of clutch release
Feeling the shift gate spring
Waiting to down shift
Release before the turn
What to do when you spin

Go-Stop-Go course on skid pad (0-1-0-1)
Slalom drill using 2nd gear then up to 3rd/4th for 120-degree drill followed stopping drill (1-2-3/4-3/4-1)
Square drill on skid pad accelerating to 4th gear practice down shifting to 3rd then back up to 4th then stop (3-4-3-4)
Touring Practice (1Hr)
In the sim review the racing line
Go over gears for each corner
Solo practice 3rd and 4th gear shifting (2-3-4-3-4-3-2)

Shift point review (Video or Listening)
Lapping sessions (3Hrs)
Higher speed lead follow
Line review notes
Conclusion
Additional instruction as needed (Charged in addition) and further solo lapping
Competition school!
Private 1 on 1 Performance Drive
Total Time –  6.5 Hours
Program Overview
Classroom discussing vehicle dynamics weight transfer and drills to be performed on skid pad. A touring session with instructor right seating. 3 Lead follow session with a debrief after each and track notes. Day ends with a personalized plan for improvement and further instruction as needed.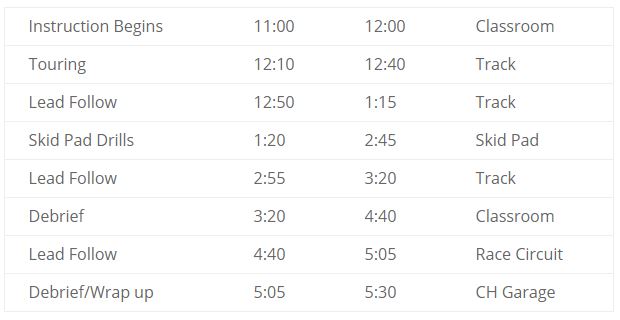 Private Track Walk
Total Time –  2 Hours
Program Overview
A 1 on 1 full track or individual track walk highlighting turning, apex and exit points. Discussions of car physics though a turn in relation to banking and elevation change. As well as an in-depth look at the rain line. Time to include course notes on track maps. Price dependent on course and based on hourly rate.